Friday, April 18, 2014
Happy Friday! It's time for Friday Confessional hosted by Aubrey @
High-Heeled Love
!
I confess…
I confess that we took way too many road trips the past month:
1. Atlanta, GA for a horse show
2. Charlotte, NC to bring home Finlay
3. Two trips to Tuscaloosa (not far, but hard work) moving Shanley into her cottage.
TOO MUCH I tell ya, but all were worth it. I confess that I'd do it all over again!
I confess…
I confess that I'll be happy when Lent is over Sunday! Plus I love Easter. Giving up sarcasm has been difficult, but I confess that it's made me a much nicer person!
I confess…
I confess that I tried to find the Candy Crush candy everywhere, and everyone around here has sold out of it. I wanted it for my own self the girls' Easter baskets, but, alas, it was not meant to be...
I wanted the color bombs. Have any of you tried it yet?
I confess…
I confess that I have too many wonderful project ideas but little time to do them. Puppy Finlay is taking up most of my time these days! He's so dang cute! I confess that I really need to finish donating and organizing books around here!!! I do have a great start on this project, and I'll post the end results when I'm done. I confess that I've been trying to complete this project since January! I'm being relentless…only keeping books I would like to read again at some point and sharing the rest. Plus, I've been very good about my weekly visits to the library!
I confess…
I confess that there are three books this year that will cause me to drop everything and I mean everything to read them! My poor family had better get ready for this for dinner:
Here are the books responsible for my (future) familial neglect:
I confess…
I confess that I have a new guilty pleasure: Korean dramas. If you didn't think I was already odd enough, this should confirm it. My oldest daughter started watching Hana Yori Dango while she was in high school (Japanese) and then she watched the Korean version Boys Over Flowers. The entire season is on Netflix now *squee* I confess that I'm enjoying watching it with my youngest daughter.
Boys Over Flowers series trailer
Stand by Me by SHINee
Theme for Boys Over Flowers
What do you have to confess?

Until next time…

Blessings!
Ricki Jill

Posted by Art @ Home
at 5:33 PM
7 comments:


Links to this post
This week I read Illusion, the fifth installment in the Chronicles of Nick. For those of you who are Sherrilyn Kenyon Dark Hunter fans, you'll recognize Nick's character. Many fans can't wait for his book to be published, but for now we have a YA series with Nick as a teenager before he's "slapped in the face" by Artemis.
Here is a
link
to my review of the first three books, and here is a
link
to my review of book 4, Inferno.
For Kenyon fans, you'll be happy to know that the Dark Hunters series and Chronicles of Nick series are soon to be major motion pictures. :D
Illusion frustrated me at first. Nick's soul is swapped with another Nick Gautier in a parallel universe. Few of the characters resemble themselves from Nick's original world, so Nick has a difficult time not only with his smaller and blonder body but also with whom he can and can't trust. I've never enjoyed stories with parallel universes. Plus, there are several more characters in this book than the others, and I really wish that Kenyon would place a character log with family chart in the back of her books. She does have a character list on her website, but I want one in the books. A glossary of the order of demons would be helpful, too…maybe with a hierarchy of demons, demigods, and gods. A bulk of the series is based on Greek mythology.
The good news about this book is we finally understand who and what Kody is, and it's a shocker. Kody is Nick's not so human girlfriend, and it's nice for her to finally answer questions rather than replying, "trust me," when in my honest opinion she hasn't really earned Nick's trust until this installment. Also, much is revealed about Nick's parentage and the importance of Nick's mother, Cherise. As a mother, I love the fact that the adults are not only present but prominent in the series, and that there are consequences for breaking rules, like curfew. For these reasons, I highly recommend Illusion. I also highly recommend the series for teenagers of all ages. There are some scary scenes, but the language is good and I think the relationships are depicted in an age-appropriate way.
Here is the trailer for Illusion: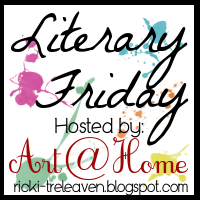 I apologize for posting this so late. I am feeling a little better!
Until next time…
Happy reading!
Ricki Jill

Posted by Art @ Home
at 4:32 PM
2 comments:


Links to this post
Happy Good Friday, my lovelies! I've had a terrible sinus headache for the past 24 hours or so. I'm fighting it as best I can, and I'm hoping this steady rain will help wash away all the nasty pollen.
My Literary Friday and Friday Confession post will be live by 8 PM CDT. Sorry for the delay. In the interim, I'll be drinking lots of hot tea with honey to help my poor pitiful self!
Until then…..check this out:
*deep sigh*
Guess what song I can't get out of my head now!!!
Cameron Diaz from Charlie's Angels
Until about 8 o'clock or so…
Blessings!
Ricki Jill

Posted by Art @ Home
at 10:32 AM
1 comment:


Links to this post
Thursday, April 17, 2014
Good Morning! I wanted to share with you some fun ideas to bring spring and color into your home. I'll be fluffing the nest this weekend, so I plan on trying most of these ideas!
Until next time...

Posted by Art @ Home
at 11:16 AM
10 comments:


Links to this post